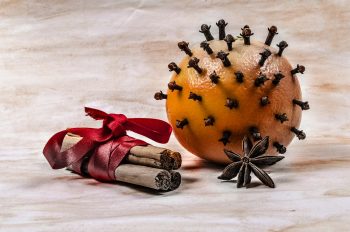 SPICE IS NICE — HEALTHY HOLIDAY COOKING ESSENTIALS
Welcome everyone to another WHAT'S ON THE #MENU MONDAY. It's already December and the busy-ness of the holiday season has begun.  And of course, during this time of year when so many are counting on us for so much, it's extra important to protect our health. As a survivor of three different cancers, I'm always looking for natural ways to protect my health — and for ways to treat it should I begin to feel overly tired and under the weather. So let's kick off the Holiday Season with 5 fabulous spices that are not only essential ingredients for all your holiday baking and cooking – but are extremely helpful health aids as well!
From pies to sides, these holiday cooking essentials will enhance every dish you deliver with flavor, color and aroma as they add health benefits for you and your family.
So, let's get started with 5 FANTASTIC FLAVORFUL SPICES FOR A HEALTHY HAPPY HOLIDAY:
CINNAMON. Perhaps the spice most identified with the holidays, cinnamon is loaded with pungent flavor and tons of healthy minerals and vitamins, including calcium, riboflavin, iron, vitamin C and all the complex B vitamins. Cinnamon contains beta-carotene and cartenoids, which help our bodies produce vitamin A. It also has antioxidant properties that have been shown to inhibit the growth of cancer cells in leukemia and lymphoma patients. Cinnamon is an anti-inflammatory and analgesic agent that can treat arthritis, prevent ulcers and fight urinary tract infections. Just a half teaspoon per day can lower LDL cholesterol levels – and the wonderful smell not only pleases our senses but can boost memory and cognitive function as well!
GINGER. Here we have another super spice rich in calcium, magnesium, potassium, iron and selenium. It contains vitamins B, C and E, protein, fiber and essential oils. Ginger has great antioxidant properties that have been used to treat certain cancers, including colon and ovarian cancer. It's a proven digestive aid relieving nausea and bloating, an anti-inflammatory used to treat rheumatoid arthritis and a natural pain-killer useful in treating headaches and muscular aches and pains. And, should you over-indulge at the holiday dinner table, ginger is an effective remedy for heartburn when mixed with tea 🙂
CLOVE. We're all familiar with the unmistakable aroma of cloves, but are you familiar with the health benefits? These tiny buds produce an oil that has greater antioxidant properties than any other essential oil. Cloves can be used to treat skin rashes and wounds, blemishes and scars. When added to food and beverages, cloves help prevent hair loss, relieve stress and help induce sleep. They contain good amounts of selenium, manganese, magnesium, iron and potassium which helps control heart rate and blood pressure. And, cloves are loaded with vitamins A, K and C, all of which help protect us from infections and strengthen our immune system.
NUTMEG. And, now for the nutmeg – a staple of holiday cooking and baking. Nutmeg is rich in essential oils that have anti-depressant and anti-fungal properties. Nutmeg also is great for promoting good digestion. It contains heaps of minerals, including calcium, manganese, iron, zinc and copper – all good for red blood cell production and the maintenance of proper blood pressure and heart rate. The antioxidants in nutmeg help protect us from colds and infections and strengthen our immune system. And like clove, nutmeg is known as a natural sleep aid. So, be sure to grate a little – or a lot – of nutmeg into your holiday baking and cooking this year and enjoy not only its flavor but its many health benefits as well.
PEPPERMINT. No winter holiday season would be complete without peppermint. It's not only one of the most popular flavor treats of the season, but one of the healthiest as well. In any form, peppermint can ease indigestion and relieve bloating and gas. It can reduce the discomfort of irritable bowel syndrome (IBS), destroy bacteria and viruses and provide relief from coughs and congestion. There also may be a link between peppermint and a reduction in the growth of cancer cells due to the phytonutrients found in peppermint oil. And when used topically, this oil is useful for treating rashes, poison oak or ivy and hives. Moreover, its wonderful festive flavor is just plain good in everything from beverages like tea, coffee and soup to desserts like candy, cakes and pies!
So, here we have five wonderful cooking essentials that have become staples of the holiday season. They add flavor, color, aroma and incredible health benefits to every dish you prepare. And, the good news is these five staples are available all year long. We don't have to limit their use to just the festive holiday season.
I love this time of year. And I'm so happy that you joined me today. Until next time everyone – stay in GOOD HEALTH and don't forget to . . .
TAKE THE COURSE AND TAKE CHARGE!