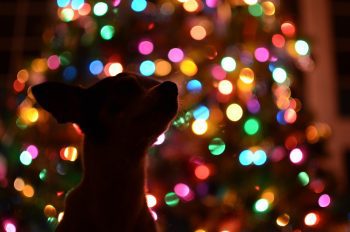 HOLIDAY DECORATIONS — GOOD FOR YOU — BAD FOR PETS
Hi everyone and welcome to another #WELLNESS WEDNESDAY. As many of you know, I've written a THREE-PART SERIES this month on PET SAFETY DURING THE HOLIDAYS.
Of course, our pets do so much for us. Studies have shown pets can create harmony, balance and peace of mind in our lives. They can help decrease depression, lower our blood pressure and boost our immune systems. My two Labradors have helped me through three different cancers. And, I know your cats and dogs have provided you with years of comfort and company as well.
Now, so far we've covered holiday FOODS and PLANTS that may be great for us and beautiful to look at – but can be very harmful for our pets.
So, let's finish our HOLIDAY HOMAGE to all our beloved pets by discussing 6 HOLIDAY DECORATIONS TO KEEP OUT OF OUR PETS' REACH:
BUBBLE LIGHTS. These special lights were very popular years ago when my Grandparents hosted the Christmas holiday at their house. And, these beautiful lights are making a come-back today. But, they contain methylene chloride, which can be harmful if it's ingested by or spilled on our fur-babies.
SCENTED OILS AND CANDLES. Both of these traditional holiday decorations make our home feel welcome and smell wonderful. But, the aroma can attract curious pets. And, the ingredients in oils may prove harmful if swallowed. Similarly, sweet-smelling candles also may contain ingredients that can be harmful is ingested – and of course, our pets run the risk of burned noses and paws should they become too inquisitive.
INCENSE AND POTPOURRI. Once again, nothing adds more to the holiday atmosphere than these wonderful aromatic decorations. Yet, these also often contain plants, chemicals and preservatives that can be harmful for our cats and dogs.
SNOW GLOBES. These decorations are one of my personal favorites and I love to lose myself in their imaginative holiday landscapes. But, they contain ethylene glycol – or as it's commonly known — antifreeze. This is a highly poisonous substance that has a sweet odor and taste – making it very attractive to pets. So, please display your snow globes in a place that's out of reach to any curious cat or dog.
PRESENTS. Every faith and tradition celebrates the holidays with presents of some kind. But, gifts and gift wrappings can create an attractive nuisance for your pet. So, don't dress your pet up in ribbons or let your pet chew on ribbons, which in either case can present a choking hazard. Similarly, keep pets away from wrapping paper, which may contain harmful substances like glue or shellac – especially those with glitter or foil. Just be sure to put all the trash IN THE TRASH as soon as the gifts are opened.
CHRISTMAS TREES. In much of the world, this is one of the most common decorative traditions of the season. We love to inhale their fresh smell and bask in the beauty of their twinkling lights and ornaments. But, we need to exercise caution to make sure our tree remains safe for our pets. So, keep your tree's water fresh and don't use any additives as pets often drink the water. Make sure all electrical cords and lights are placed deep within the tree and that no wires are loose or dangling. Perhaps, use fishing line to tie your tree to the wall so it's much less likely to fall over. And, place tinsel and attractive shiny ornaments high up on the tree – and make sure ornaments on the bottom third of your tree are the sturdy and shatterproof kind.
This truly is a wonderful time of year!! It's a time to enjoy Family, Friends, Food, Fun and Festivities – no matter what your personal and cultural traditions may be. We all want the same basic things from live. We all want Love, Joy, Health and Peace for all our Friends and Family. And, this means every member of the Family – Fluffy and Fido included!
With that, our THREE-PART SERIES on HOLIDAY PET SAFETY comes to an end.
I wish you all a WONDERFUL HOLIDAY SEASON filled with MAGIC AND MIRACLES – and a HEALTHY, SAFE and PROSPEROUS NEW YEAR!
Many thanks for joining me everyone. Until next time, stay in GOOD HEALTH and . . .
TAKE THE COURSE AND TAKE CHARGE!