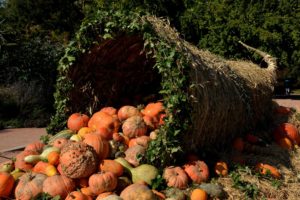 4 TASTY & HEALTHY FALL VEGGIES
Welcome to another #Menu Monday everyone! The Autumn Equinox has come and gone, Summer is a thing of the past and October is here in all its colorful glory.  We are in the midst of the autumn harvest and last week we discussed four fabulous fall fruits and the terrific health benefits they'll offer throughout the season and well into winter.
So, this week it's time to discuss the veggies. Not to be outdone, fall's bounty of fresh and healthy vegetables is equal to that of the season's beneficial fruits. And, although this list could go on for pages, I've narrowed it down to four incredibly nutritious favorites you can enjoy for months to come.
FOUR HEALTHY FALL VEGGIES YOU DON'T WANT TO MISS:
SWEET POTATOES. Yes, this is one veggie that makes the top ten of everybody's list when looking for tasty and healthy fall produce. These beautiful orange beauties reach their peak of flavor during the autumn harvesting months between September and December. They are loaded with beta-carotene – the precursor of vitamin A – which helps promote healthy eyesight and retinol production. Carotenoids are powerful antioxidants that also help protect against many different types of cancer and the effects of aging. Sweet potatoes are high in vitamin B6, which reduces the risk of degenerative diseases including heart disease. And their supply of vitamin C, iron and potassium offer protection from colds and flus, support for our immune system and aid for inflammation.  Talk about a versatile veggie. Sweet potatoes can be boiled, roasted or baked – served as a side dish, a featured casserole or a snack of healthy fries.
BRUSSELS SPROUTS. I know, I know. Not everyone is a fan of this tiny cabbage. But, hear me out. This small veggie offers big health benefits. It's loaded with vitamins A and C, which protect our eyes, boost our immune system and insulate us from colds and flus. It also contains high concentrations of glucosinolates – compounds that are little cancer-fighting machines – and the chemical sulforaphane, which also contains anti-cancer properties. Brussels sprouts also are a rich source of omega-3 fatty acids, which help reduce our risk for age-related macular degeneration, inhibits the growth of breast cancer cells and metastasis, protects against coronary heart disease and decreases the impact of rheumatoid arthritis. Try roasting this veggie with a little olive oil, salt, pepper and parmesan cheese. Or even a bit of balsamic vinegar. This will reduce the bitterness and bring out the nutty flavor. Also, small ones are sweeter than large ones. They're available September through March, so why not give this often overlooked veggie a try?
CAULIFLOWER. Although cauliflower makes a great appetizer when served raw with a dip, it's also a perfect addition to any cold weather meal with a harvesting season that began in September. Cauliflower is a great source of vitamin C and manganese – both of which are powerful antioxidants and offer protection from many cancers. It also contains high amounts of vitamin K and omega-3 fatty acids, which protect against inflammation related diseases, including ulcerative colitis, arthritis and diabetes mellitus. These anti-inflammatory properties also make cauliflower a great go-to veggie for providing cardiovascular and cerebrovascular health for our hearts and brains. One cup of cauliflower delivers over three grams of dietary fiber, which aids proper digestion. This veggie is a good source of potassium, phosphorus and proteins AND its concentration of glucoraphin protects the stomach lining, which reduces our risk for stomach ulcers and cancer. Rather than boiling, try steaming or sautéing this veggie to maintain its healthy benefits. Or puree it to make the perfect winter soup.
PUMPKIN. And, here we have another perennial favorite. From October through February pumpkins are plentiful and ripe for harvest. With its bright orange color pumpkins – whether they are canned or fresh – are one of the best sources of alpha and beta-carotene, which convert into retinol to protect our eyes and promote healthy cell growth. One cup of pumpkin contains three grams of dietary fiber for our digestion and less than eighty calories that will keep us trim while helping us to feel full. This veggie also provides beta-cryptoxanthin – a vitamin A carotenoid that decreases inflammation and protects us from inflammatory diseases like rheumatoid arthritis. And, its stores of potassium aid in electrolyte and muscle recovery. But, there's more! Pumpkin seeds are a rich source of antioxidants, fiber and zinc. So, be sure to save the seeds and roast them with a little sea salt for a wonderful healthy snack.
And that my friends, rounds out this year's list for the Four Fall Veggies You Shouldn't Do Without. May you enjoy them all season long 🙂
Thanks for joining me everyone! Until next time, stay in GOOD HEALTH and . . .
TAKE THE COURSE AND TAKE CHARGE!