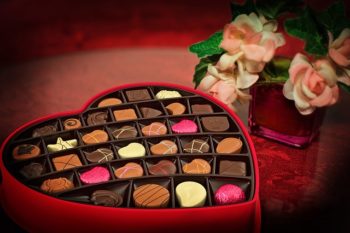 A VALENTINE'S DAY SALUTE TO CHOCOLATE
Welcome to What's on the MENU MONDAY everyone. Valentine's Day is right around the corner, which makes this the perfect time to talk about Chocolate.
Just about everyone's favorite treat, we're all familiar with the fabulous taste, smell, flavor and texture of this rich, sweet and yummy culinary delight. But, chocolate is much more than a pretty face. In addition to simply tasting great, it's loaded with nutritional value and healthy benefits.
Yet, all chocolate is not created equal. Derived from the cacao bean, which has a chalky and bitter taste, sugar, butter and milk must be added to give us the sweet treat we all know and love. And, depending upon how much of these ingredients we add, we end up with either milk chocolate or dark chocolate.
Between the two, however, it's the dark chocolate that packs the biggest health punch. And, by dark we mean chocolate that has a cacao content of at least 30 percent. In fact, some nutritionists recommend consuming chocolate that has a cacao content of at least 70 percent.
This, of course, is a matter of taste. But, here's our RULE OF THUMB:
The darker the chocolate, the greater the health benefits. And, here are some of the reasons why:
1) Dark chocolate is loaded with organic compounds that function as free radical-fighting antioxidants, such as flavanols, polyphenols and catechins.
2) The flavanols in dark chocolate increase our nitric oxide production, which helps protect our skin from the sun's harmful ultraviolet rays, improves blood flow to the skin and increases skin density and hydration.
3) One or two bites of dark chocolate each day may help prevent cardiovascular disease by lowering our blood pressure and reducing our risk of heart attacks and strokes by 39 percent.
4) Dark chocolate is packed with lipoproteins that protect us from oxidative damage, decrease our "bad" LDL cholesterol and increase our "good" HDL cholesterol.
5) Compounds in dark chocolate such as caffeine increase the blood flow to our brain, which improves our cognitive performance as well as our short-term alertness and awareness.
6) Dark chocolate contains the anti-stress mineral magnesium, which helps reduce the level of our stress hormone cortisol and improves our mood and mental outlook.
7) The theobromine in dark chocolate increases the production of our "feel good" chemicals serotonin and dopamine and the methylxanthine in dark chocolate reduces our risk of depression.
8) Moreover, dark chocolate can increase our energy, quiet a cough and even prevent or reduce occasional diarrhea.
And, as long as we limit our intake of dark chocolate to one or two bites a day, we won't have to worry about excessive added sugar or weight gain 😊
But, let's not stop here. After all, it's almost Valentine's Day. So, let's go ahead and up the ante by adding a strawberry or two. Pairing dark chocolate with this low-cal, great tasting powerhouse of vitamins A and C, calcium, iron and potassium creates the perfect dessert for two.
Just melt some dark chocolate in a pot on the stove over low heat. Allow it to cool just a bit and then dip some delicious and nutritious stem-on strawberries into the mixture. Set the chocolate-coated strawberries aside on a sheet of wax paper to harden. Arrange on a beautiful plate and enjoy a sweet, guilt-free and surprisingly healthy dessert with your Valentine.
Oh, and by the way, did I mention the strawberry is a member of the Rose family? Now, how perfect is that for Valentine's Day!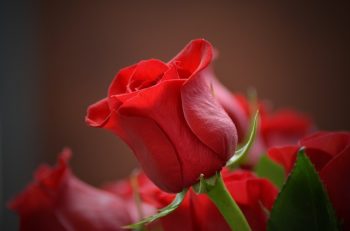 Thanks again for joining me everyone. Have a wonderful week and enjoy the upcoming holiday with Someone You Love.
Until next time, stay in GOOD HEALTH and . . .
TAKE THE COURSE AND TAKE CHARGE!